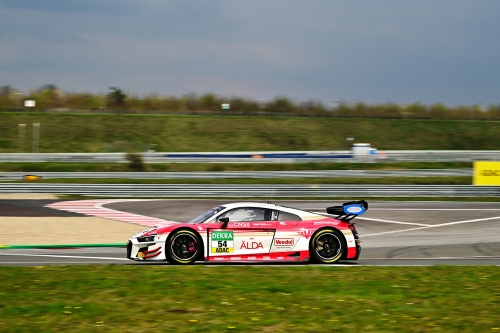 Oschersleben/Saxony-Anhalt: The Austrians mastered their ADAC GT Masters debut with flying colors in front of 28,000 spectators. The German GT Championship started its season last weekend (April 22-24) at the Motorsport Arena Oschersleben. Eastalent Racing from Austria was on the grid too. The team was just founded recently in December 2021 and the racing car, an Audi R8 LMS Evo II, arrived on April 1, barely in time for the first tests. Team owner Peter Reicher describes everyone's excitement ahead of the weekend: "Although we have been racing for over 10 years, we were especially excited before this debut. Everything was organized last-minute. The Audi arrived in Oschersleben just 3 days before the official test and press days. We couldn't do any testing in advance. So how would we perform? Now we know."
The free practice sessions on Thursday and Friday had to suffice as season preparation. Simon Reicher sat behind the wheel for the first qualifying session of the year on Saturday. He already shared the cockpit with his teammate Norbert Siedler last year. "The first free practice sessions were promising. The qualification then caused some disappointment. I didn't get the tires into their right temperature window. We qualified in 21st position," explains the junior driver.
The first race of the season showed the high level of competition to expect in this year's ADAC GT Masters driver field. "Oschersleben is always difficult for overtaking. Simon was able to keep up with the best drivers and teams in his first half of the race. I drove the second stint and brought our Audi home in 16th place," reports Norbert Siedler.
Sunday's race result called for a champagne celebration in the team. After a great tenth position in Sunday's qualifying, Norbert Siedler brought the team into the points at their debut. Peter Reicher describes the situation as follows: "Before this weekend, we were dreaming of a top ten finish, though we would have also been happy with 15th. What a feeling of joy and relief after Norbert handed over our Audi to Simon halfway through the race and Simon safely managed tenth position until the end. We are just at the beginning and still finding our way as a new team. The drivers and engineers are developing fruitful teamwork that will mature into a perfect unit. If we can improve at a steady pace during the first half of the season and keep the focus up, we will be awarded at the end of the season. We are a small, private motorsport startup. Everything takes time, but we know where we can go and what we can achieve. Now, we will invest all our efforts into preparing for our upcoming home race at the Red Bull Ring."
The second round of the ADAC GT Masters season will be held in Spielberg May 20-22. Both qualifying sessions and races will be broadcast on TV by sport.de and Nitro.