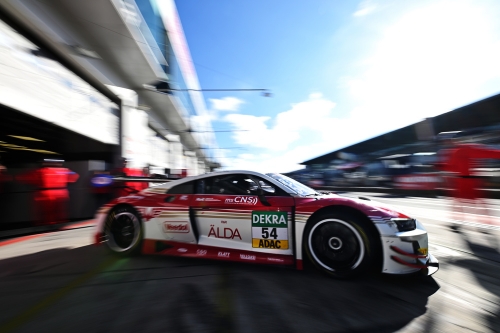 Austrians with another successful ADAC GT Masters event
Nürburg/ Rhineland-Palatinate: While the ADAC GT Masters sought out its mid-season champion last weekend (August 5-7), the Austrian driver duo at Eastalent-Racing diligently continued to collect points. After an exciting podium finish at Zandvoort, the team, led by team director Peter Reicher, was eager to compete at the Nürburgring. On the Thursday before the event, the team had to work out the right setup for the weekend. But the Nürburgring turned out to be a tough nut to crack. Simon Reicher sums up Eastalent's challenges: "The weekend was difficult. We lacked the testing time. We struggled with the setup throughout the weekend." 
The two free practice sessions on Friday could not have been more different. The first session was rather mediocre with 20th position and a gap of about 1.5 seconds to the lead. The second session decreased this gap to 0.75 seconds, whereby 13th position caused a cautiously hopeful mood in the team. The first qualifying session on Saturday then brought disillusionment, qualifying in 21st position and again a 1.5-second gap to the front-runners. "The first sector was our weak spot throughout the entire weekend. Compared to the fastest cars, we lost up to seven tenths just in the first sector. The gaps in the other sectors were ok."
The race on Saturday was off to a promising start. The #54 Audi R8 LMS moved up into 16th position after just a few corners. The team was chasing down championship points, which are awarded from 15th position and up. But an overly motivated competitor destroyed these hopes we a heavy push to the Eastalent-Racing Audi and subsequent spin. Simon Reicher was thrown to the back of the field and played amazing catch-up thanks to great team performance. The Austrians barely missed the points, crossing the line in 17th. 
The team significantly improved its pace in Sunday's qualifying, in which Norbert Siedler piloted the Audi. The curse of the first sector seemed to be broken. The gap to the fastest was down to just one second over the entire lap. Nonetheless, Eastalent-Racing did not manage to qualify beyond 21st position on the grid. Sunday's race would go on to be an exceptionally good team effort. The Austrians scored one championship point crossing the line in 15th position.
The weekend conclusion turned out mixed. While Simon Reicher spoke of achieving the minimum target, Norbert Siedler explained his viewpoint as such: "Of course we expected a bit more after our podium finish in Zandvoort. But we must also be realistic with ourselves. We're the only team that didn't test at the Nürburgring in preparation to the race. In Sunday's race we did well in terms of our race pace and lap times. We improved every session closer and closer to the fastest teams. If we could start over this weekend today, we'd be in a completely different position. With 15th position in today's final race, we certainly achieved our minimum target and added another important point to our championship ranking. We certainly would have preferred a top-ten finish after our successful weekend in Zandvoort. Nonetheless, we should not be dissatisfied with the result. The championship moves on to the Lausitzring in two weeks and we're all excited. Though we will not be able to test in advance due to scheduling reasons. Thursday before the event will be our only day to test and make fundamental adjustments. Now, we keep pushing and stay focused. Based on this weekend's results from the Nürburgring, we will continue to develop and hopefully have fewer problems at the Lausitzring. Thanks to the entire team. Everyone did a great job."
The fifth round of the German GT Championship hosted by the ADAC GT Masters takes place August 19-21 at the Lausitzring, located in Brandenburg near Klettwitz.