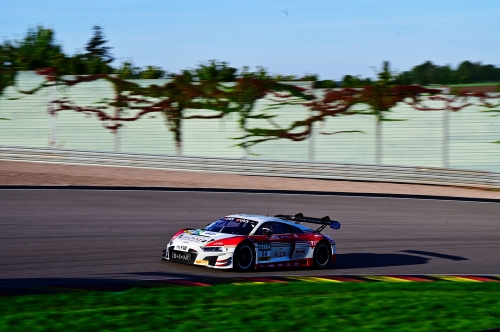 Austrians collect important points at the Sachsenring
Hohenstein-Ernstthal/Saxony: Last weekend (September 23–25), the ADAC GT Masters held its penultimate race of the season at the Sachsenring in front of 26,000 spectators. Due to how competitive this series is, the German GT Championship is considered the league of super sports cars. The two Austrians Simon Reicher and Norbert Siedler participated for their team Eastalent Racing.
"We overcame last year's challenges well, but that didn't make this weekend any easier," said Norbert Siedler. After a mixed qualifying session, Eastalent Racing managed to finish 15th in the first race and score one championship point. However, a racing situation in which three vehicles fought for positions in a corner did not please the stewards at all. The result: a 5-second time penalty for the Austrians, which unluckily threw them back to 18th position, as there were competitors directly behind them.
After the mixed experiences on Saturday, the Austrians conducted some drastic setup changes for Sunday. "I already expected that the car would be even more difficult to drive after the set-up change. Especially since we've never driven this setup before. We have to sort these things out better in advance, we know that. Experimenting in the race doesn't always work in such a top-class starting field", explains Norbert Siedler and adds: " I was able to keep up to a certain extent over the period of my stint. During Simon's stint, the tires deteriorated so much that our speed and lap times were no good anymore."
Simon Reicher saw the situation as follows: "No matter how a weekend goes, you learn and gain more experience. Still, we must be honest with ourselves. This weekend wasn't good. In direct comparison to last year, we improved, because we weren't in a position to compete much last year. This year we were, but we were just a bit off with our setup."
"In my opinion, the Sachsenring, with its four right-hand and ten left-hand corners, is a motorcycle racetrack. A car with four tires is not designed for this layout and that requires some compensation with the setup. As a new team, we simply lacked the experience here. We don't have reference values ​​from the last few years. Sunday's race was definitely more difficult to drive, but we have taken a fundamental step and must continue this successful development in the coming year."
Norbert Siedler sums up: "Even if the result doesn't reflect this, we were able to keep up with the other Audi cars well in Saturday's race. We are very happy with 13th position on Sunday because we were able to score more points in the championship."
Now, it's time to focus on the season finale at Hockenheimring. Shortly before the racing weekend, the team will conduct tests at the circuit. Team boss Peter Reicher comments: "We want to deliver our best performance at the season final and we want to collect important data for the coming season."
A day of testing before the race at the Hockenheimring – we wanted to know from Simon Reicher whether one testing day is enough to rule out all possible sources of error: "Even 100 test days are too few because you're never really sorted out. You're always learning, there's always something new. Still, one day is better than none. We will try everything to prepare for the final as best as we can. We are preparing an intense testing program and focusing on the big points. If we can do that well, we'll be well prepared for the Hockenheimring. The track suits us and we've always done well there. I'm feeling positive about the final."
The season final of the ADAC GT Masters takes place October 21–23 at the Hockenheimring in Baden-Württemberg.