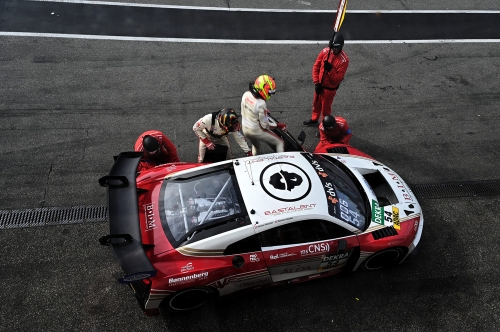 Successful season final for the Austrians at Hockenheimring
Hockenheimring/Baden-Württemberg: The ADAC GT Masters celebrated its season final last weekend, October 21–23, at the Hockenheimring in Baden-Württemberg. Over 26,000 racing fans visited the circuit to see the spectacle. The Austrian Eastalent Racing Team led by Peter Reicher was also part of the action, also marking the grand final of the team's very first ADAC GT Masters season.
Thursday testing began with a moment of shock for the team. In pouring rain, the Audi ran into the barriers for the first time this season. Thanks to a great team effort and outstanding work from the mechanics, the Audi was back on track.
Driver Norbert Siedler summarizes the weekend as follows: "We tested here at Hockenheim a week earlier and the results were very promising. Right before the weekend there was a short-term staff change in the team and we started the racing weekend without an engineer. Our basic setup worked very well, but we lacked a bit of speed in both timed practice sessions. It was just a few small things, but it would have taken an engineer to crack them." Simon Reicher describes the start to the weekend as follows: "What an up and down of emotions, a challenging situation. I screwed up my qualifying session on Saturday. I didn't manage to put together a proper lap. That was not my best performance."
After 20th position in qualifying and finishing in 15th in Saturday's race, the team revised its strategy. Norbert Siedler reported: "Our race pace was great and we were able to keep up with the lap times of the best."
Eastalent's success was to come on Sunday. The qualifying session was already extremely close. With a gap of only six tenths of a second to pole position, the team placed in 18th position as the slowest Audi, even though the gap to the other Audis was significantly reduced. This shows once again how tough and tight competition is in the German GT 3 Championship. 
Starting the final race of the season from 18th on the grid, Norbert Siedler handed over the Audi to Simon Reicher halfway through the race in seventh position. "We seemed to have found the right setup. The Audi's traction on the asphalt was incredibly good and I could make my way through the field and hand over to Simon in seventh place. Unfortunately, he made suboptimal contact with a competitor, which led to a drive-through penalty. Without the penalty, we may have had a minor sensation for the second time this season." 
Simon Reicher commented: "Our speed in the race was simply awesome. The Audi drove brilliantly. We made a big step there. The contact with our competitor was frustrating, but I simply didn't expect someone in front of me to hit the brakes so suddenly. It was a silly situation that I unfortunately can't do anything about. I would have preferred fifth place as a thank-you for the team. And fourth place was also within realistic reach. Maybe we could have made the podium again. Nonetheless, we were able to score points twice and achieve our minimum goal."
Team boss Peter Reicher reviewed the weekend as follows: "I'm not satisfied with the results here at Hockenheim. We received a drive-through penalty that I don't agree with. When your competitor drives on the outside line and then brakes for no apparent reason, where should we go? In my opinion, that type of contact is racing. You can't always prevent these things." 
Norbert Siedler draws his positive conclusion of the 2022 season: "My summary for the season? I hoped we'd achieve more top ten finishes. However, I never imagined scoring a third-place podium at Zandvoort either. I was always aiming for seventh to twelfth position finishes. But the podium counts more. We can be satisfied with our performance this year." 
Simon Reicher's review is similar to that of his teammate: "Statistically speaking, we delivered a good season pretty much in line with what we imagined. In a total of 14 races, we only missed out on points three times, but as compensation we scored a podium with third place at Zandvoort. And nobody saw the podium coming. That was something very special. It showed us that when everything fits together and we have some luck on our side, we can achieve a lot in this racing series. We've made big steps forward as a team and are excited about the 2023 season." 
Finally, we wanted to hear team manager Peter Reicher's perspective on the 2022 season: "In general, the season went much better than we expected. The results were partly mixed and partly stellar. All in all, we are happy and looking positively towards the 2023 ADAC GT Masters season."