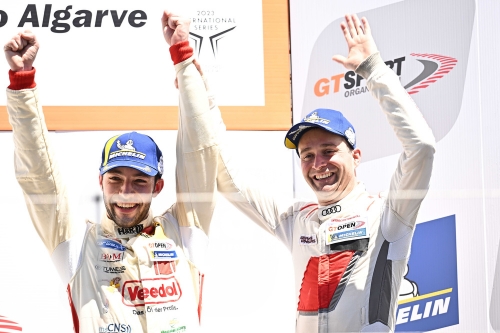 Eastalent's first GT Open race and podium
Kirchberg bei Mattighofen: Things could not have gone better for the Austrian team last weekend (April 28–30). Eastalent-Racing, who are pursuing new challenges this year in the international GT Open, finished in third place on Sunday at the Autodromo do Algarve in southern Portugal. "Our two Audi drivers Christopher Haase and Simon Reicher delivered a perfect debut," reports team owner Peter Reicher. His decision to move the team into a new championship this season was confirmed this weekend: "We didn't leave a stone unturned and completely reorganized ourselves as a team. But I didn't expect this result. I was thinking more along the lines of fifth place if things went well. But none of us expected fourth place on Saturday and a podium on Sunday. This was a great debut for the entire team!"
This positive development was already evident on Saturday. Expectations were already surpassed with a fourth position finish in the first race of the season. Simon Reicher qualified the car in 17th position during the first qualifying session. The Austrian caught up several positions after the race start and handed over to his teammate Christopher Haase as planned. He piloted the Eastalent-Racing Audi across the finish line in fourth position.
By now it was clear that even more could be possible on Sunday. The team around team owner Peter Reicher eagerly awaited the qualifying session on Sunday morning. Christopher Haase qualified the number 23 Audi in fourth place among the GT 3 cars. He secured third place on the first lap of the race and held on to it until the driver change. Simon Reicher then defended third position through the race finish.
Both drivers were very positive after their first outing in the international GT Open. Christopher Haase analyzed the situation as follows: "New team, new championship, no easy task for Eastalent. We focused on getting the basics right. Strong basics lead to good results. I think we have done this very well. Now we must optimize our processes and performance. We have to be clever, analyze cleverly, and implement changes cleverly; that will put us in a good position at Spa Francorchamps. It will be difficult to maintain these results throughout the entire season. We will have to continue improving our basics." Simon Reicher was impressed by the roller coaster ride of the Algarve. "The circuit is a bit like the Nürburgring, only smaller. It goes uphill and downhill. The track is impressive, has a very nice flow, yet it's very hard to drive. Because of the many curves and the ups and downs, you often can't see the braking or turn-in point. The exits of the curves are also not always obvious. This is a challenging circuit and I'm happy with our performance here. I absolutely didn't expect P4 on Saturday and P3 today. Everyone in the team did a fantastic job. Let's see if we can build on that for the next race at Spa Francorchamps."
Peter Reicher concludes: "We have to prepare well for Spa. We still have a bit of work to do there. In Christopher we have a very good teacher on board who can help us as a team grow and contribute to Simon's development too. I have always known that Christopher is a very good driver and an absolute professional, but experiencing him live in our team is simply fantastic. I owe him great respect, hats off. I am also happy to see my son Simon make great improvements with Christopher in the team. A great asset to experience and learn from this season."
The second round of the international GT Open is just under four weeks away. The legendary Circuit of Spa-Francorchamps in Belgium will host the series May 26–28.